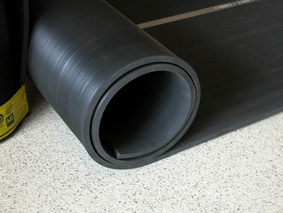 Electrical rubber Mats
Price And Quantity
Product Specifications
Electrical rubber Mats

Rubber
Product Description
Electrical Rubber Mattings are used as floorings in Power Generation Stations, Sub-stations for Power distribution, Industrial Switch Boards, Electrical Control Panels, Computer Server Rooms and testing stations. They are essentially used for safeguarding the life of workmen due to possible leakage of current.



Features :
Serves as a personal protective equipment (PPE).

High resistance to ageing and dilute acids.

All Weather - Mats will not curl, shrink or separete under extreme hot or cold conditions.

Also serves as an anti-skid and sound dampener while in use.

can also be manufactured as Flame retardant
construction :

Our Electrical Rubber Mats are manufactured out of a Rubber Compound made from high quality natural rubber. These Mats are manufactured in one or more of the following combinations :
Chequered

Anti skid fluted design

Plain at the top or bottom.
Thickness Range : 6.5 mm to 25 mm for Chequered, Fluted and Plain Rubber Mats.

Length :
Available in Rolls of 20 Mtrs each (upto 6mm thick) in fluted and plain designs.

Available in Rolls of 10 Mtrs each (6mm thick and above) in fluted and plain designs.
Width : Upto 1.5 Mtrs.

Colour : Black 1 other colors can be given as per clients requirements.

Tensile strength : 50 kgf / cm²

Voltage strength :Tested at a voltage of 15,000 volts for one minute without any puncture or warming effect.
Breakdown strength : Tested upto 40, 000 volts as per 18:2584/23.